If you're a furniture saver and have a penchant for second-hand items, you'll need to know how to remove varnish from wooden furniture. As I well know.
Most of the furniture in our house – chests of drawers, tables, sideboards, bedside tables – comes from Facebook Marketplace or is second-hand. You can't beat the high quality craftsmanship of antique and vintage furniture. And you really can't beat the price compared to buying new. These pieces usually need a little (or sometimes a lot!) of TLC, so we've learned over the years how to breathe new life into a piece of furniture with paint and stain. This easy DIY project requires first removing the old stained finish or varnish, so learning how to strip wood furniture was a must.
There are several options for stripping furniture and it really depends on the finish to determine which is the easiest option. We look at both chemical (stripper) and mechanical (sanding) products so you can find the right one for your project. Sometimes using a combination of methods is necessary to get the best results.
And armed with this know-how, you can not only strip furniture, but other wooden objects as well – check out how to strip paint from wood to learn more.
How to remove varnish with a stripper
There are different types of stripping agents that can be used to remove the stain or varnish. If you are working with an old stain that is fine and has already worn off, you can use a product like Zinsser StripFast Furniture Refinisher. A thicker varnish will require more work. Learn how to remove varnish, ready for a new finish with decoupage, whitewash or the best furniture paint.
What you will need:
rubber gloves
Stripper
Iron straw
Stripper wash (I like the Zinsser StripFast stripper wash)
Lint-free cloth
Drop cloth (or sheet to protect the work area)
1. Prepare your workspace and materials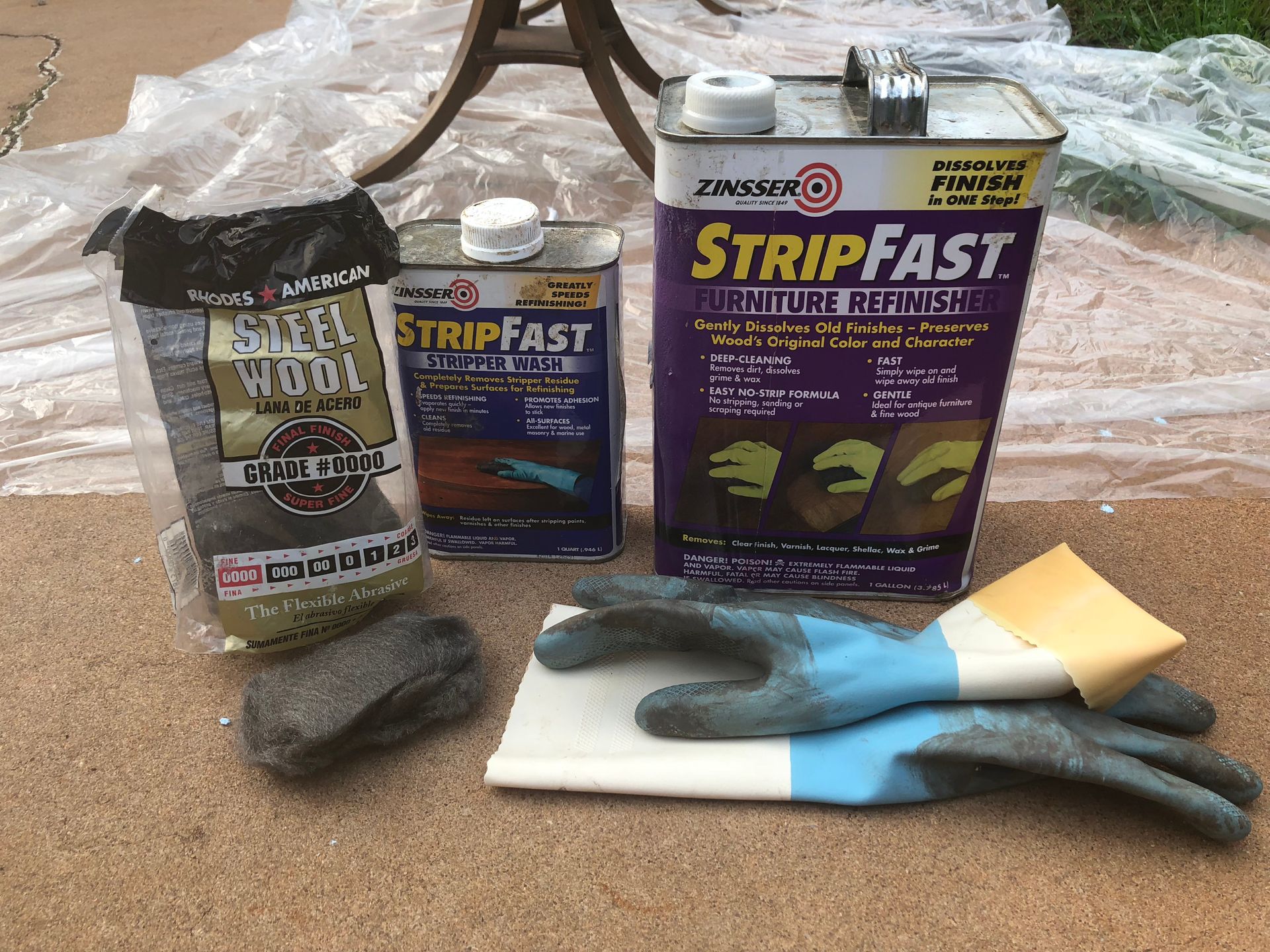 Find a place outside where you can lay your drop cloth and place your furniture. The stripper has a very strong scent, so you don't want to do it indoors.
2. Apply stripper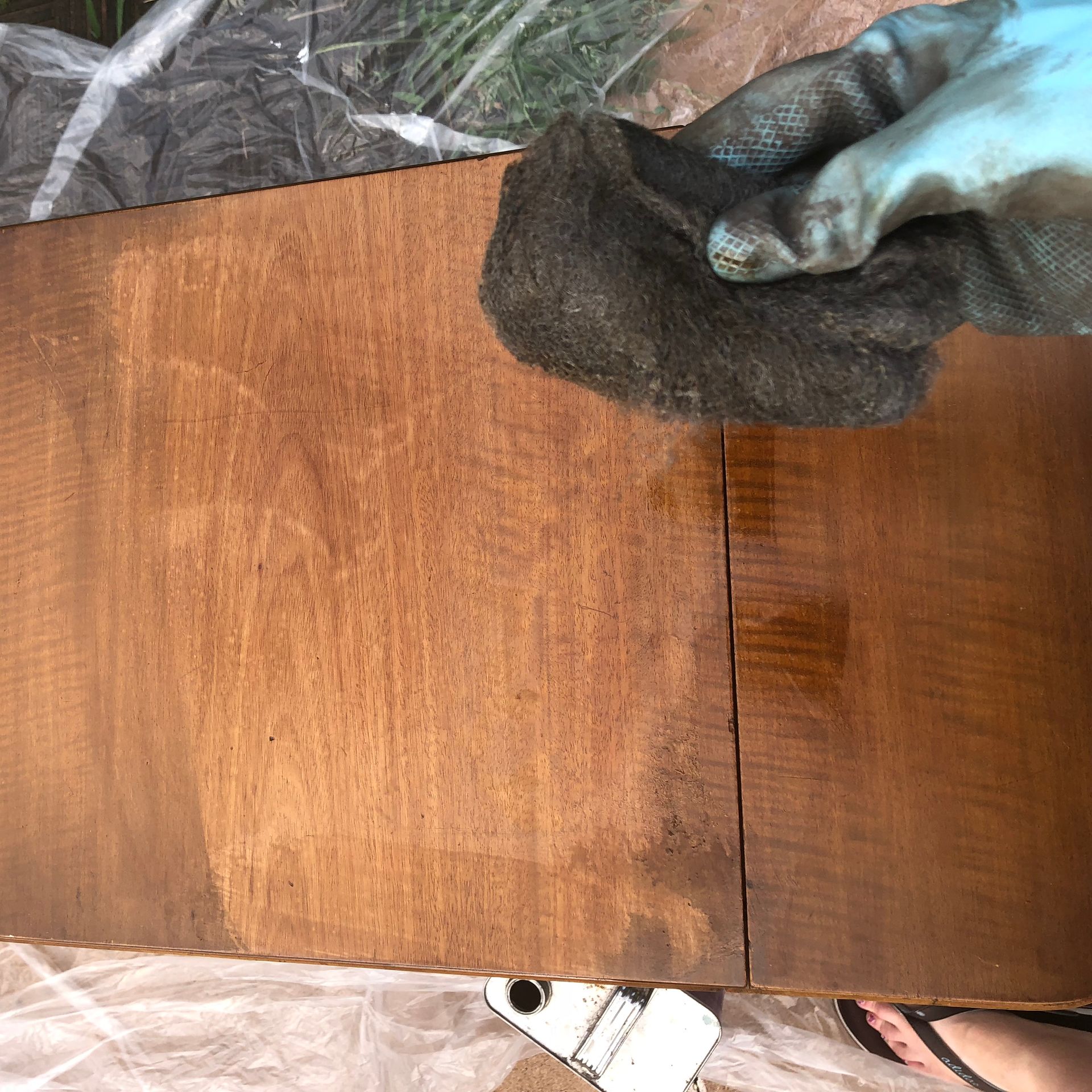 Wearing gloves, apply the stripper using steel wool, gently going over the old stain. You will start to see the finish wear off. Continue until all of the stain has been removed, this may require several pieces of steel wool. Use your lint-free cloth to wipe away the old finish as you go.
3. Clean with stripping cleaner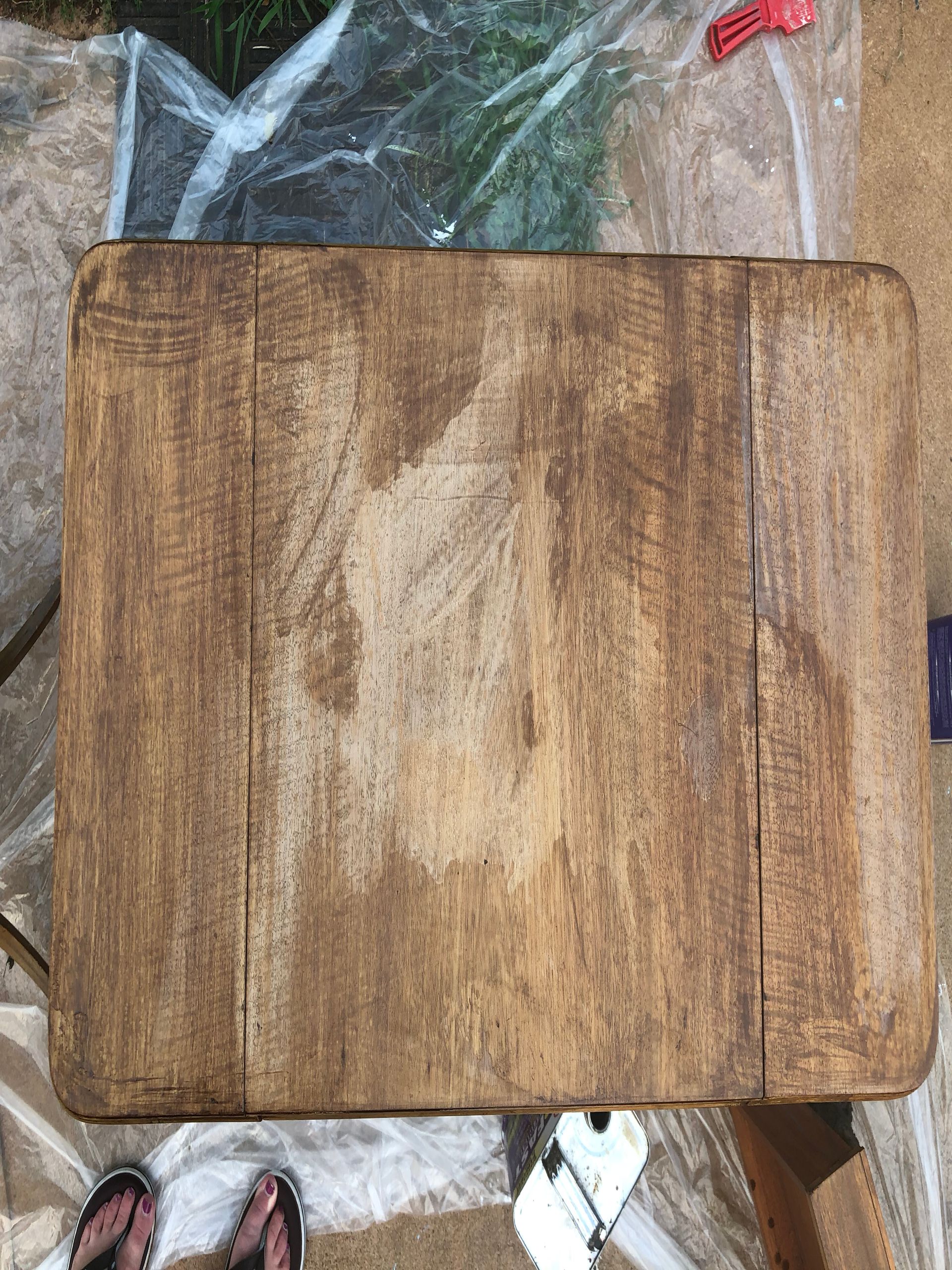 Using a stripper, go over the fresh wood with steel wool to remove any remaining residue. Use a lint-free cloth to wipe it down one last time. Your piece is now ready for a new finish!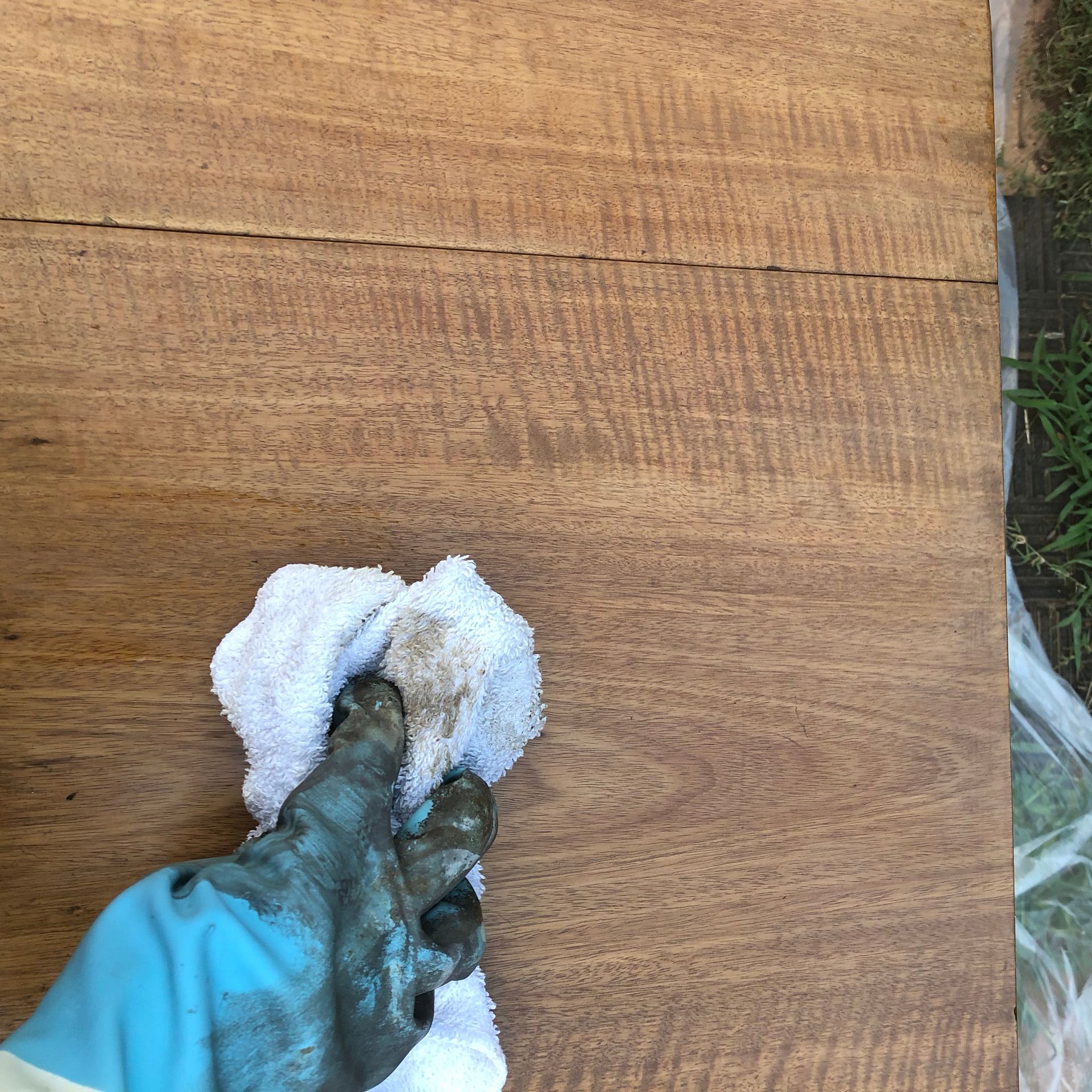 How to remove stubborn varnish residue
If you are removing old paint or very thick varnish, you will need a more abrasive stripper like Citristrip (available on Amazon in different forms) (opens in a new tab). This gel type stripping agent thickens and needs to sit on the surface for a while, usually about 15 minutes. During this time the old finish will begin to bubble up and you can then use a plastic scraper to remove the old finish. This process may need to be repeated depending on whether there were multiple coats of paint or varnish to be removed. Sanding may be required to remove stubborn residue. I always recommend using a pre-stain like Minwax to even out the surface after removing the finish and before applying the stain.
Can you remove varnish with oven cleaner?
A trending method on TikTok and Instagram with mixed reviews is to use Heavy Duty Easy Off Oven Cleaner to strip furniture. You spray the product on your piece, let it sit for about 30 minutes, then use a scrub brush to go over the piece. Finally, you spray the furniture with water to remove the finish.
I decided to try this so I could see how it worked for me. In my experience, this method should only be used if the layer of stain you wish to remove is very thin. It does not work well on painted or heavily varnished surfaces.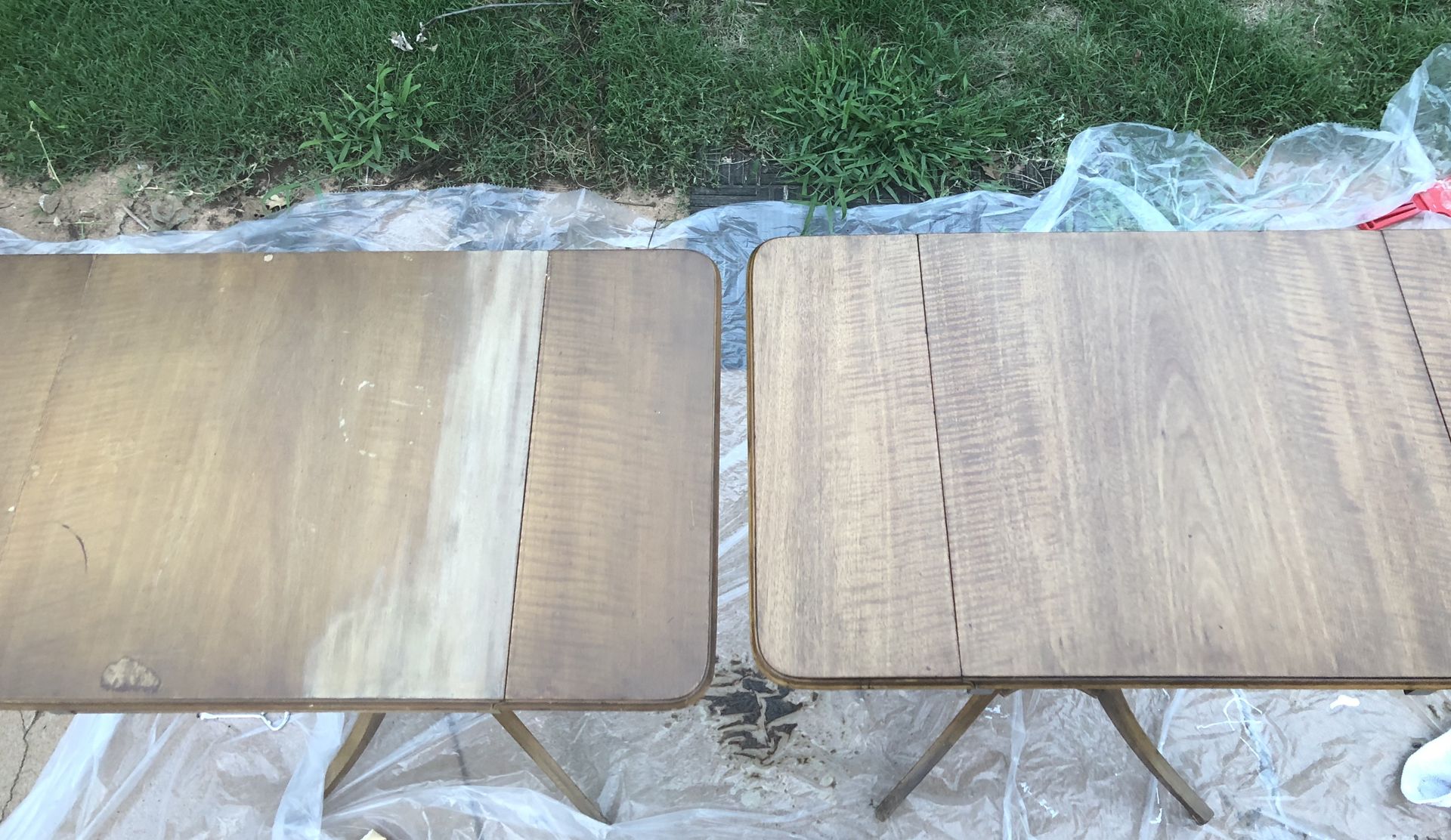 How to remove varnish by sanding
Sanding is the other way to strip the old finish from furniture. You can use a belt sander with a coarse grit to remove thick coats of paint and varnish by moving the sander in the direction of the grain of the wood. You can use a finer grit for finer finishes. You will need a small detail sander to get into the hard to reach nooks and crannies of your workpiece. Again, you'll want to use a pre-stain before applying a new stain finish to even out the wood.
People always want to know, is it better to strip or sand the furniture? Sanding takes a lot of time and effort, especially for large pieces. Using a sander with a stripping agent will speed up the project.
Learning how to strip furniture isn't difficult, you just have to be willing to dive in and try! Once you remove the old finishes, the fun begins as you can paint the wooden furniture for a whole new look of your choosing. With these tips, you'll be able to upcycle old and outdated furniture into beautiful showcase pieces for your home.